A printer gives you convenient printing options for all of your documents, photos, and other hard copies. Choosing the right one can be a difficult task for everyone, and there are different types of printers available in the market. Whether you want basic homework document printing, high-quality photos, copying, or even faxing, there are many options suitable for you. We'll help you decide what you want and find the printer that best suits your needs.
Our printer reviews cover all the facts about printers which are so popular on store shelves. We test every printer on the basics, such as print quality and speed, the cost of printing and the volume the printer is designed to handle. In addition, we've also reviewed laser printers, photo printers, and even portable models, all with the aim of finding the best printer for you.

The Best Printers in 2022
The Brother DCP L2550DW printer is the perfect choice for the home or the busy small office looking for a fast and reliable multifunction printer. It features a 50-sheet automatic document feeder, enabling multi-page copying and scanning and the best print speeds of up to 36 pages per minute for faster high efficiency. This printer has a reliable Wi-Fi connection, enabling printing from wireless devices, including desktops, smartphones, laptops and tablets.
There is an Ethernet interface for sharing with multiple users on the network for those who prefer wired connections. Connecting locally to a single computer via a USB interface is also possible. The operating environment temperature should be between 50- 91 °F temperature. Speed ​​and efficiency are trademarks of the new Brother DCP L2550DW Multifunction Printer. The 250-sheet paper tray handles letters and legal-size paper, reducing the need for refills.
Envy 5010 is one of the great printers with trending wireless capabilities. Now, in 2022, wireless functionality isn't a big deal. However, the transparent functioning of the HP ePrint mobile app makes printing more accessible. Envy 5010 can print up to 10 ppm black and white and seven ppm colour. In addition, the Wireless Direct function allows you to print even without a network. And also, it can start printing faster. Another advantage of this printer is easy to set up procedures.
There are a lot of specific features, including wireless printing, voice-activated printing, direct printing to the smartphone, copying, scanning, automatic two-sided printing and direct printing to SD cards. Families with multiple people who have their own printing needs for work, school, and home businesses will find this printer to provide endless versatility, ease of use, and affordability.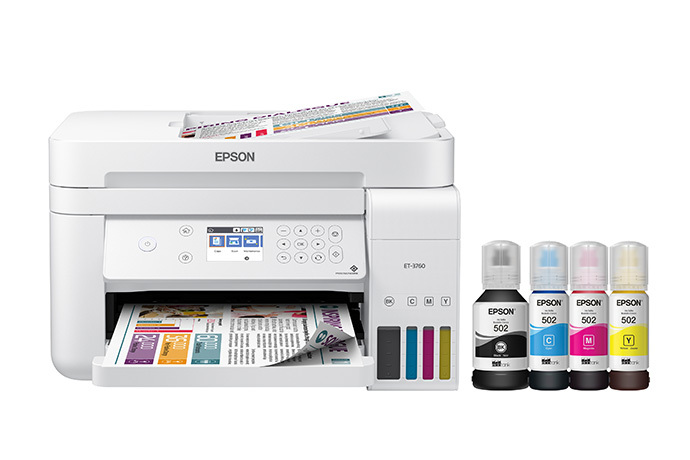 Affordable refillable tanks are the most exciting development in printing technology of the past decade. Epson pioneered the cartridge-free system, and the Eco-Tank ET3760 represents the latest generation of technology. The cost savings are significant; this printer costs about a penny per colour per page, compared to a typical inkjet printer.
While early versions of the Eco-Tank were awkwardly bolted to the side, the Eco-Tank is now integrated directly into the printer's front. It makes it easy to refill and see how much ink is in it. You do not have to worry too much about it, as the ink that comes in the box should last around two years (or 7,500 pages, whichever comes first). Suppose you print about 200 pages per month. Because of these specific features, we can introduce this printer as a valuable printer. If you need a printer in 2022, you should have to pay attention to this product.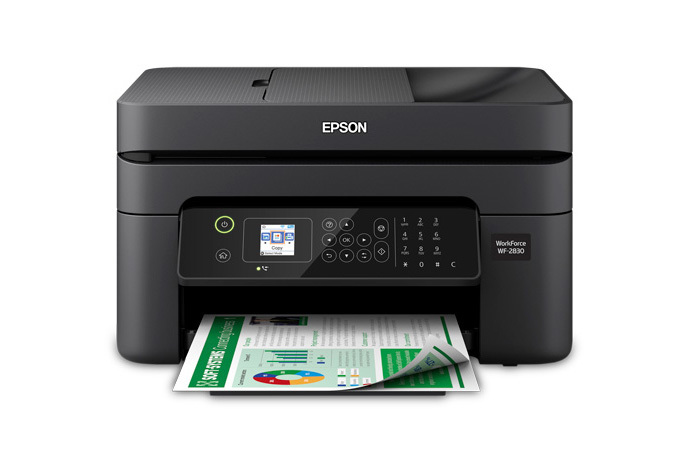 At first glance, this is a remarkably economical printer, given that it does all the normal multifunctional scan and copy jobs. In addition to adding direct fax and even an automatic document feeder (ADF) that can contain up to 30 pages.
It also takes automatic two-sided printing in its step and usually ticks all the right boxes for working from home. It's not ideal for photo printing, but it does an excellent job of colour documents with only four inks under the hood. There are individual cartridges for all four colours, but the printer ships with low-capacity "setup" cartridges that may run out soon after installation. Despite this, the high-capacity XL replacement options help reduce operating costs.
The Brother MFCJ6930DW looks like a superb printer at first glance. It has an excellent design, and if you look at its features, it contains some intuitive features that make it extremely useful for both home and office use. It has multifunction functions, including fax and combined with automatic two-sided printing. The large, intuitive 9.3cm touchscreen lets you perform many functions. Without even using your computer, you can scan directly to popular cloud services like Google Drive, Dropbox, Facebook, OneNote, Evernote, etc.

This printer also offers excellent wireless connectivity, NFC and direct printing. You can print directly from your mobile devices using several supported applications, including Brother iPrint and Scan, Mopria and more. Although this printer is not intended for heavy office use, it is equipped with a 50-page automatic document feeder. In addition, the paper tray is large enough for its size and can hold 500 sheets. And also, there is a multi-purpose tray with a 100-sheet capacity that can be used to print on a wide range of media.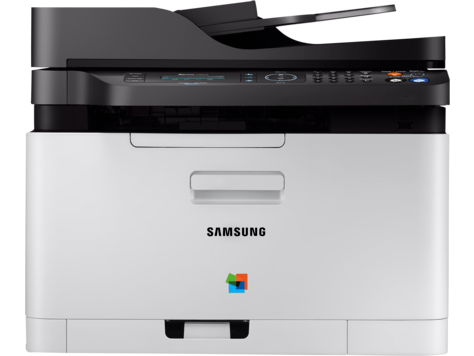 This is another excellent colour laser printer equipped with all the necessary features you need: NFC compatibility, printer, copier, and scanner can be found in this machine. This printer has been designed to ensure that anyone can use it easily. Printing can also be done quickly with Samsung's NFC technology. All you need to do is simply tap an NFC-enabled smartphone on the printer to install Samsung's Mobile Print app, and then the device will connect automatically. It also comes with cable and wireless connectivity, and surprisingly this device is quite light despite all the features it has with only 14kg of weight. Setup is also easy with a three-step installation without a wired connection.
The HP Neverstop 1001NW Laser Printer is a monochrome laser printer for anyone with non-colour printing needs. It has built-in Wi-Fi and its print speed of 21 ppm (pages per minute) is significantly faster than many comparable inkjet printers. It's hard to find a printer that does more in such a small space. But this printer is relay smaller than others, and it isn't much more significant than an 8.5 x 11 sheet of paper. Instead of toner cartridge refills that cost hundreds of dollars, the 1001nw uses a refillable toner tank that gives you 2,500 pages per refill (the machine comes with 5,000 toner pages in the tank) and costs less.
Note that a laser printer uses an entirely different printing technology than an inkjet printer. Therefore, a laser printer will not smudge as easily in addition to faster print speeds. And also, the text on the printed page will often appear sharper. Black and white laser printers, in general, are much more accessible than new Full-Color laser printers, and toner cartridges last longer than inkjet cartridges.
If you are looking for a printer that can work quieter, faster, and perform better for text documents, the HP Color LaserJet Pro M454dw is an excellent choice. It is particularly well equipped for low to medium volume home offices and to meet the general printing needs of most families. With AirPrint and other popular wireless connectivity solutions, you get Ethernet, USB, and Wi-Fi. And also, you can print directly from USB sticks, even if there's no media card reader.
Two paper trays can hold up to 300 sheets at the same time and can be expanded up to 550 sheets with an optional extension paper tray. Since it is a laser printer, it is relatively fast. You can print colour documents at a speed of 17 pages per minute, and the print quality is quite good. The case is the quality of photo prints lags behind a good inkjet printer like the Canon PIXMA Pro200.
9. SAMSUNG Xpress M2026 Monochrome Laser
SAMSUNG Xpress M2026 is one of a kind for home or small office use. It is a fast laser printer capable of printing documents at up to 20 pages per minute. The device is powered by a 400 MHz processor and associated with 64 MB of memory. That is why this printer is able to print quite quickly. In addition, it is equipped with One Touch Screen Print and Ready Mode function where, with these features, you can be much more productive by reducing waiting times.
Although this printer is a mono device, Samsung also includes this printer with rendering technology to improve the quality of the outputs. Especially for printing images that may appear more detailed and crisper. Another great feature of this printer is the One Touch WPS button, and it allows you to quickly connect to your existing wireless network just by pressing the WPS button.
If you need to buy a cheap, smart printer for your home need, Canon PIXMA TS3320 is the best one for you. It's a really lightweight space saving. Instead of having separate cartridges or reservoirs for each link, it works with monochrome and tri-colour cartridges with four inks in total. It is sold as Canon PIXMA TS3320 in the United States and PIXMA TS3350 in Europe.
If you print a lot of yellow, for example, you might find yourself wasting cyan and magenta inks when you need to replace the cartridge. However, the optional XL cartridges keep costs down. Print speeds aren't exactly fast, and duplex printing can only be done manually, but even so, this PIXMA is a good budget option.